Deep Search Gold Detector
The VLF 81 is a new innovate Gold Metal Detector . It takes of Very low frequency technology that suitable for Gold ,sliver,cooper,coins.historic relics and so on .it can meet various daily treasure hunter purpose .it has earthly full environment friendly green color make you fell pleasure,can find smaller gold nuggets, smaller coins easily.
Introduction
VLF81 isunique among gold prospecting metal detectors for its combination of highsensitivity to small gold nuggets and its versatile function as an all-purposetreasure detector.
Thecontrols and features are tailored to gold prospecting, including a sophisticatedground balancing system, separate control over signal gain and threshold, and aunique discrimination control system. These features also make for a greatrelic-hunting detector, especially when it is outfitted with the optional 11"DD search coil. While the VLF-81 makes for a highly competent coin-shootingdetector, its user interface and features are not specifically designed forthis purpose. As a coin-shooter, you will notice that the VLF-81 exhibitsslightly lower sensitivity to high conductivity coins, like a U.S. quarter;this is a result of its specialized design to emphasize sensitivity to smalllow conductivity metals like
goldnuggets.
VLF81 isoutfitted with a small 5" search coil as standard equipment since this search coilconstruction is best-suited to finding gold nuggets. You may be familiar withother metal detectors which have larger search coils, generally in the range of8 to 10 inches in diameter. Large coils are designed to cover the maximumamount of ground efficiently and for the deepest ground penetration. Smallsearch coils, intended for gold prospecting, are designed for precision. Iissmall DD search coil makes pinpointing easier, fits into small spaces wheregold is often hidden, is better suited to penetrate highly mineralized soilswhere gold is frequently found, and has the highest possible sensitivity totiny gold nuggets.
Specification:
Mechanical:S-rod with electronics housing on rod, 3-piece breakdown
construction,nonmetallic telescoping lower rod, adjustable position
arm rest
Weight: 2lbs, 8 oz with battery installed
Standardsearch coil: 5 inch (12.3 cm) closed-frameround biaxial(not waterproof)
Batteries:Single 9 volt rectangular alkaline
Operatingprinciple: VLF induction balance
Operatingfrequency: 19 kHz, crystal controlled
Reactiveoverload: 10,000 micro-cgs (with standard search coil)
Resistiveoverload: 1,200 micro-cgs (with standard search coil)
Groundbalance range: From ferrite to salt water inclusive
Discriminationground suppression: Combination of 2nd and 3rd
ordermethods
Target IDground suppression: 3rd order
Batterylife: 15+ hours on good quality alkaline
Operatingtemp range: 14 to 122 degrees F (-10 to +50 C)
Operating humidity range: 0 - 90%noncondensing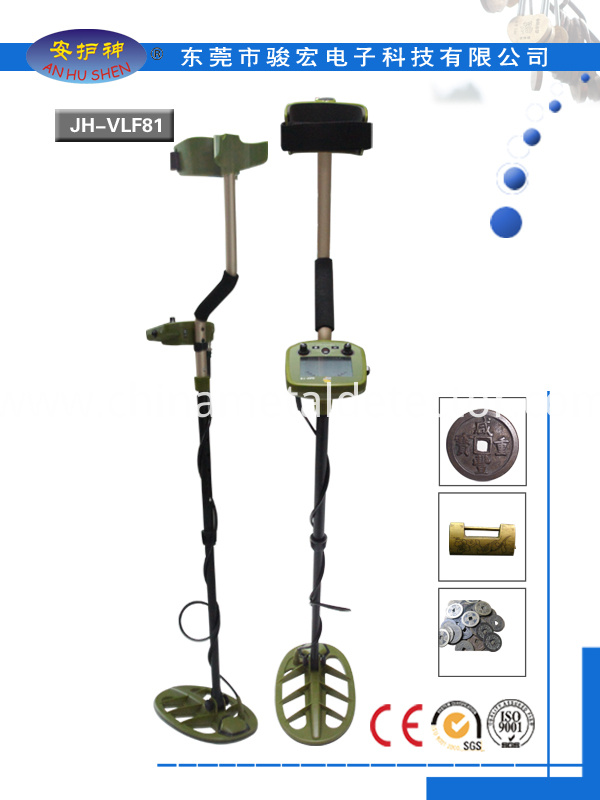 Looking for ideal Deep Gold Detector Manufacturer & supplier ? We have a wide selection at great prices to help you get creative. All the Gold Detectog Searching are quality guaranteed. We are China Origin Factory of
Gold Detector Machine
for Deep. If you have any question, please feel free to contact us.
Product Categories : Underground Metal Detector > Underground Gold Detector