High performance Hand Held Metal Detector
JH1001 hand held Metal Detector is a metal detector for precious metal.There are high and low two kinds of sensitivity options.The Handheld Metal Detector machine has two alarm modes are available, LED lights and audible alarm or vibrating alarm.It is a high stable machine with superior shock resistance.
PRECAUTIONS:
1. Turnoff the power after use, Don`t forget! Long time not to use please take out the battery
2. whenthe detector is fixed against the metal, It does not send sound or vibration ,sound or vibration only occurred when the detector scanning;
3. Whencharging, please note that with the use of rechargeable batteries, Otherwise itmay cause the battery to explode; charger voltage: AC or DC 12V, 1000MA;
4. Whenusing an external power supply, you can remove the battery, then use the sufficientpower supply, or it may cause the detector does not work.
TECHNICAL PARAMETERS :
1, AlarmIndication:
Flashinggreen LED: Power
Flashing redLED: Target has been detected
Continuingyellow LED: Low Voltage Directive
Metal indicationLED: detection of objects of different sizes, the light from green to redgradient
2, Power supply: 9V battery standard
3, Power consumption: max 270MW
4, Operating frequency: 22KHZ
5, Standby current: <5MA
6, Operating Voltage: DC 7 ~ 12V
7, Working temperature: -10 ℃ ~ 65 ℃
8, Reset time: 0.5 seconds, the automatic
9, Staple 30-50mm 2 Tiananmen-stylepistol 200mm
10, 38 Caliber Pistol 250mm
11, Weight: 170g (without batteries)
12, Size: 295mm * 68mm * 28mm
INTRODUCTION:
1. Airports,railway stations, docks electronic detection checks;
2. customs,public security, frontier defense, the defense department security checks;
3. Medicine,food quality inspection business systems;
4. sawmilldetection nails, important places, playground safety inspection;
5. preciousmetal detection, such as gold and silver jewelry factory, electronics factory.
FEATURE:
1. streamlinedappearance, small and exquisite, easy to carry; easy to use, convenient, noneed to adjust;
2. withbattery voltage indicator; When the battery is low, the yellow light will on,to remind you to charge or replace the battery;
3. electricityprovince, 250MA battery charging time can work continuously for more than 40hours; When 9V battery down to about 7V, the same detection range;
4. twoalarm modes are available: LED lights and audible alarm or vibrating alarm;
5. lightweight, large area detection sensor to detect speed;
6. Thereare high and low two kinds of sensitivity options;
7. hasan external charging jack: After installing rechargeable battery, you cancharge your detector with a charger(12VDC power supply)
8. withsuperior shock resistance, durable, one meter height of free fall withoutdamage;
OPERATION:
1. Turnthe power switch (10) to hear alert sound or vibrate, which means that thepower is turned on,. when the green light blinking, the detector can be use. Ifthe green light is not bling, maybe the battery is broken, or the battery cannotbe reused, when the yellow light on , please recharge or replace the batterieswith new.
2. sound,vibration change option: switch (10) for the third gear switch, intermediate stopsto turn off the power, docked one side of an audible alarm, vibration alarm theother direction.
3. Afterthe power is turned on, you can perform high sensitivity detection, Scan thetarget with the Detection Area ,when metal be detected the red light on andthe alarm sound or vibration.
4. lowsensitivity detection: If you need a low-sensitive detection (such as in thevicinity reinforced of the ground to find a coin), you can hold down the lowsensitivity switch (9),then the sensitivity reduced to about 1/5.
5. Charging:when the yellow light is on, It`s means the battery power is low, pleaseconnect the charger. when the battery voltage reaches 9V, green light (8) willlight up when the green bright enough to prove ,that the battery is fullycharged. (Charging time depends on the specific battery capacity, our factorystandard battery is about 3 to 6 hoursto full)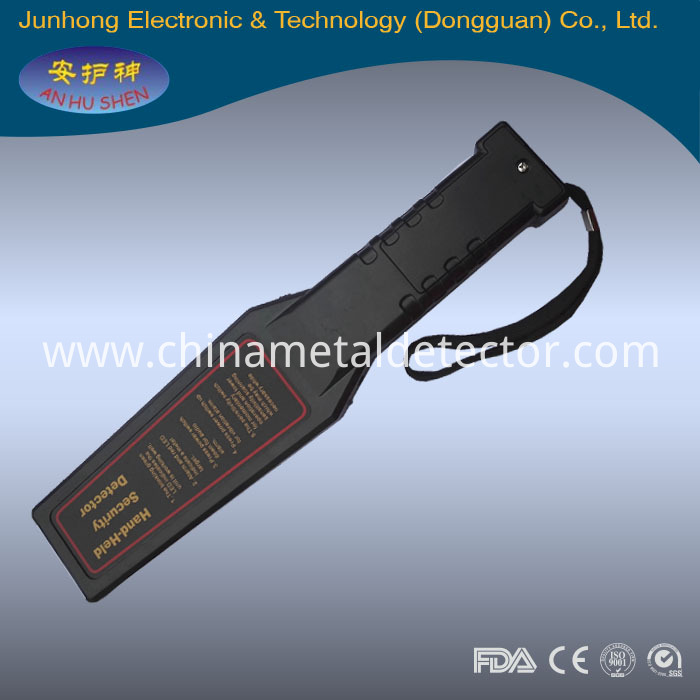 Looking for ideal Metal Detector for Precious Metal Manufacturer & supplier ? We have a wide selection at great prices to help you get creative. All the High Stable Hand Held Metal Machine are quality guaranteed. We are China Origin Factory of Metal Detector with Shock Resistance. If you have any question, please feel free to contact us.
Product Categories : Security Metal Detector > Hand Held Super Scanner